Illinois Lincoln Highway Birthday Bash!
May 18 & 19
Driving Tour of the Lincoln Highway in Illinois and Other Events
Open to the Public!
The 100th Birthday of the Lincoln Highway will be celebrated in Illinois with a variety of events to fit any schedule and any budget!
There are four free events open to the public:
1.) Saturday, May 18th, 2nd Annual Lincoln Highway Car Show, Downtown Franklin Grove, 10:00 a.m. to 4:00 p.m. Free! No registration required.
2.) Saturday, May 18th, The Lincoln Highway in Creston, Keynote Speaker, Lyle Headon, Creston Opera House, downtown Creston, 6:00 p.m. Free! No registration required.
3.) Saturday, May 18th, Lincoln Highway Evening Car Show, Downtown DeKalb, 6:00 p.m. to 7:30 p.m., Van Buer Plaza, parking lot across from the Egyptian Theatre, corner of N. 2nd St. and Locust. Free! Winners will be chosen by the audience and announced on stage at the Egyptian Theatre following the music concert beginning at 7:30 p.m.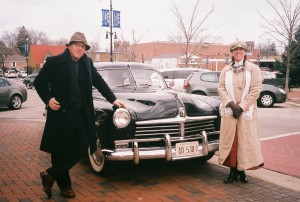 4.) Sunday, May 19th, Book Talks and Signings, The Lincoln Highway Around Chicago by Cynthia Ogorek and The Boys in Chicago Heights: The Forgotten Crew of the Chicago Outfit by Matthew Luzi, 7:30 p.m., Frankfort Park District Founders Room, 140 Oak Street in Frankfort. Free! No registration required.
The 100th Birthday Bash at the Egyptian Theatre will feature the Irish-American band Switchback and Colleen's School of Clogging & Celtic Dance from Sterling. There are discounted seats to premium seats up front. Alice Ramsey and Carl Fisher will be special guests and Ross Freier from Rochelle will narrate the history of the Lincoln Highway through the music of Switchback. The crowd-pleasing band MahaRa will open and they guarantee the audience will want to give them a standing ovation! This will be a family-friendly event. To order tickets just for the concert, go to the Egyptian Theatre's Website here for Switchback in Concert.
Illinois Driving Tour, Reasonably Priced!
Hurry, register for dinner by May 1! Find the form as a PDF here: BirthdayBashRegistration
You can choose Saturday, or Sunday, or both depending on your schedule!
1913 Style Driving Tour of the Lincoln Highway in Illinois, $15, includes driving guide and tour of the Lincoln-Manahan Home in Sterling, leave your GPS at home!