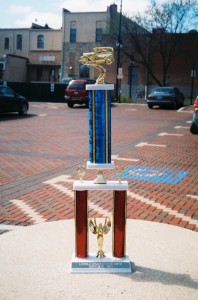 The 2nd Annual Lincoln Highway Car Show will be held in Franklin Grove on Saturday, May 18th, from 10:00 a.m. to 4:00 p.m. It is not too late to register on site for $12! Find the Website here and the registration form as a PDF.
Also, there will be a Lincoln Highway 100th Birthday Bash Car Show in DeKalb on the same day in DeKalb in the Frank Van Buer Plaza parking lot beginning at 6:00 p.m. The parking lot is across from the Egyptian Theatre on the corner of Locust Street and North 2nd Street, in the 200 block of Locust. The parking lot will be reserved beginning at 4:00 p.m. Registration for the 100th Birthday Bash Car Show will be free! The audience attending the Switchback / MahaRa concert at the Egyptian Theatre at 7:30 p.m. will choose the winning entries! The winners will be announced on stage, immediately following the music.
The DeKalb Car Show is timed so that everyone can participate in both! There will be plenty of time to travel from Franklin Grove to DeKalb and stop for dinner!
Cars,trucks, and motorcycles of all years are welcome. Because Carl Fisher, the mastermind behind the Lincoln Highway, got his start racing, repairing, and selling bicycles, those are welcome, too! Click here for the DeKalb Car Show Registration Form. Registration for the DeKalb Car Show is free and on site.