There is a tradition of having live music performances inside the H. I. Lincoln Building for more than a hundred years. The top floor held numerous public events with live bands. The Franklin Grove Harvest Festival Committee chooses a person or a group to honor during Annual Harvest Fest held during the first weekend in August. The 35th Harvest Fest held in 2014 honored Franklin Grove's Musical History, showing how ingrained live music is to the community. In more recent years, going back a couple of decades, there are Third Friday and Fifth Friday performances held on the main floor of the Lincoln Building. On the Third Friday of each month, there are performances by area musicians, with donations taken at the door. Some months have five Fridays and on the Fifth Friday of each month, the H. I. Lincoln Building hosted regional musicians for bigger performances with tickets sold in advance. Two of the professional musicians who performed in the past inside the H. I. Lincoln Building talked about their experiences in outdoor interviews.
Martin (Marty) McCormack from Chicago and Brian FitzGerald from western Iowa are Switchback, a two-person band performing Irish and Americana music. Switchback performed frequently for Fifth Friday nights. Marty describes performing at Franklin Grove in an interview down outside, near the Leaning Tower of Niles. Switchback made frequent trips to the real Italy, but the Leaning Tower of Niles was the next best location for an outdoor interview in the middle of a pandemic with significant travel restrictions. For the hearing impaired, it is possible to use the automatic closed captioning settings on YouTube.
For a sample of music by Switchback, please
click here
. Until the pandemic ends and Switchback can return to performing in live shows again, Marty hosts the Mr. Marty Show on YouTube, mostly from his backyard.
Joe Pasteris, a percussionist from DeKalb, Illinois, performed in numerous regional bands throughout Northern Illinois, including Acoustic Circus, The Saltines, Rowen and His Merry Men, the DeKalb Municipal Band, and the Kishwaukee Symphony Orchestra (KSO). Acoustic Circus, The Saltines, and Rowen and His Merry Men all performed in the H. I. Lincoln Building. His outdoor interview took place in Annie's Woods, now a park in DeKalb, which appropriately used to be a Free Auto Camp for motorists on the Lincoln Highway. An Auto Camp was a designated place for early travelers to stop for the night and set up a tent and use a provided fireplace for cooking, a primitive forerunner of a motel.
There are some recordings made years ago of Joe Pasteris performing inside the H. I. Lincoln Building posted on YouTube. Here is Ain't No Train To Memphis Anymore with Joe Pasteris performing on a percussion instrument called a washboard tie and Steve Catron on a mandolin from a Third Friday, February 17, 2012:
Please find another song recording below:
Appropriately, Rowen and His Merry Men performed Freight Train:

Rowen Derksen is the lead singer on guitar, with Steven Catron on mandolin, Jim Vancko on stand-up bass, Joe Pasteris on washboard tie, and Pete Salstrom on fiddle.
One more train-themed song:

For a sample of Acoustic Circus performing in another venue, please click here.
The noise from freight trains sometimes interferes with the sound during music performances. Just to have an idea of how close the trains are to the Lincoln Highway Interpretive Center, here is a video clip of a couple of freight trains with some glimpses of the Lincoln Highway mileage sign and the building.
Unfortunately, COVID-19 in the year 2020 made impossible to host those large, crowded performances indoors or smaller Third Friday performances indoors. Third Friday performances moved outdoors, and with weather an additional factor, those took place in June, July, August, and September. The audience brought their own lawn chairs and some local folks kept themselves safer from the spread of the virus by parking their cars in the blocked off street, sitting in their cars, and rolling down their windows a crack so they could hear the music. Pictures from the August and September 2020 Third Fridays are below: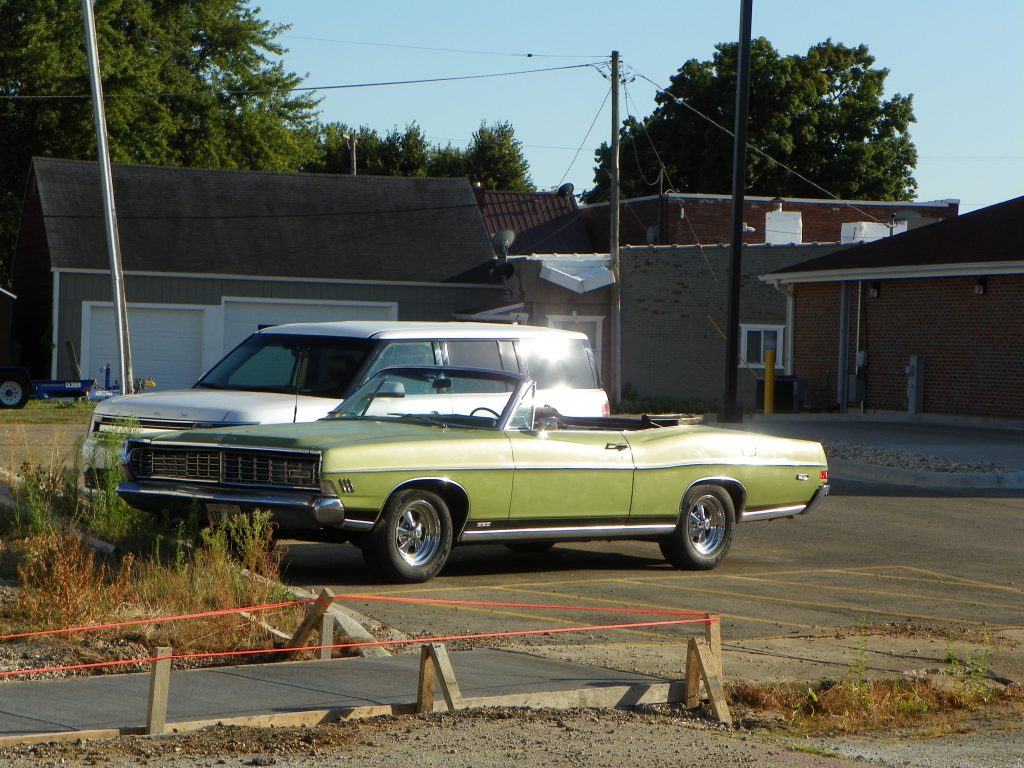 Here is a short sample of a performance from the Third Friday in September, in the dark, with the crackle of wood burning in a fire pit. The lyrics have a local feel–click here for the references to Franklin Grove in the song.

Back to Table of Contents