From the LHA National Office . . . by Lynn Asp, excerpt from The Lincoln Highway Forum, Fall 1996, Vol. 4, No. 1.
"July 2, 1996 marked another turning point in the story of the Lincoln Highway Association. Tuesday morning found us busily unpacking boxes at our temporary office in Franklin Grove, Illinois. Only a few minutes into our housekeeping endeavors, we were pleasantly surprised by the arrival of our first visitors. Signing the guest book were Janet Currens Franklin of California and her mother Doris Currens of Minnesota. Just a few days later John Hiland, a charter member from Pennsylvania, stopped by on his way home from the Reno Conference.
Progress has been made and continues to be made here at headquarters. Many thanks to all of you for being so patient as we have endeavored to gather LHA records and information from all over the country. Our sincere thanks also go out to John and Diane Nicholson of Northern Illinois Inspection Service for graciously providing office space for us.
The LHA Unsung Hero Award is hereby presented to Ruth Frantz, executive board member and director of the Illinois chapter, for her many hours of volunteer labor in helping to put us in an "up and running" mode. I believe Ruth can now navigate the Route between Sugar Grove and Franklin Grove in her sleep.
Progress is also being made on the H. I. Lincoln Building, our future office site. Members of Farming Heritage, Inc. have become busy workmen. Even as this article is being written, tuck-pointing is taking place down the street. Speaking of tuck-pointing, our national president, Esther Oyster, learned the fine art on a recent visit to Franklin Grove, as evidenced by this photo.
I have three requests to ask of all LHA members:
First: We love hearing from you. Please feel free to stop by if you're in the area., or to drop us a line voicing your concerns and comments. We're here to serve you.
Second: If you have a business or tourist attraction on the Lincoln Highway, we'd like to know about it. Please send whatever information you have.
Third: Please promote the LHA at every opportunity. For our organization to become all we envision, a continual influx of new members is needed.
Finally, a request of all state directors:
I frequently have inquiries for current merchandise or literature. A list of all items available from your chapter would expedite service in this area. Would you also include our office in your newsletter mailings. . . ."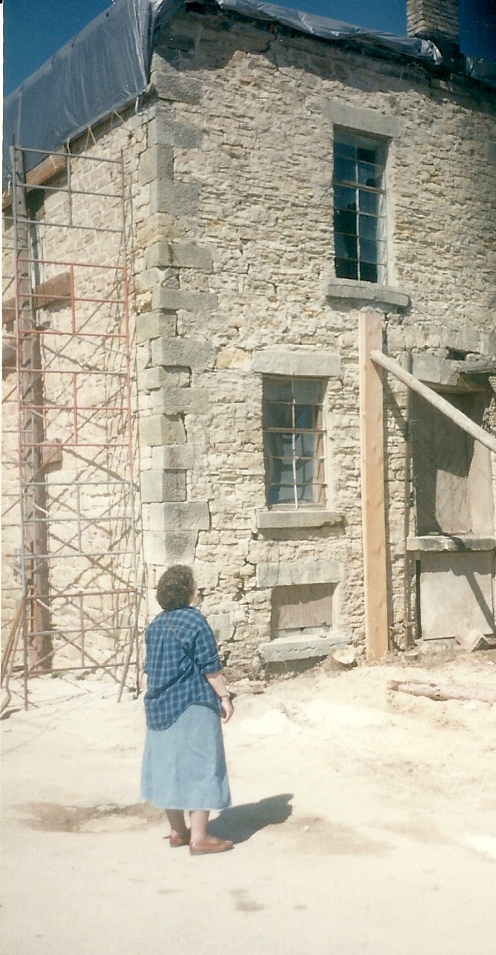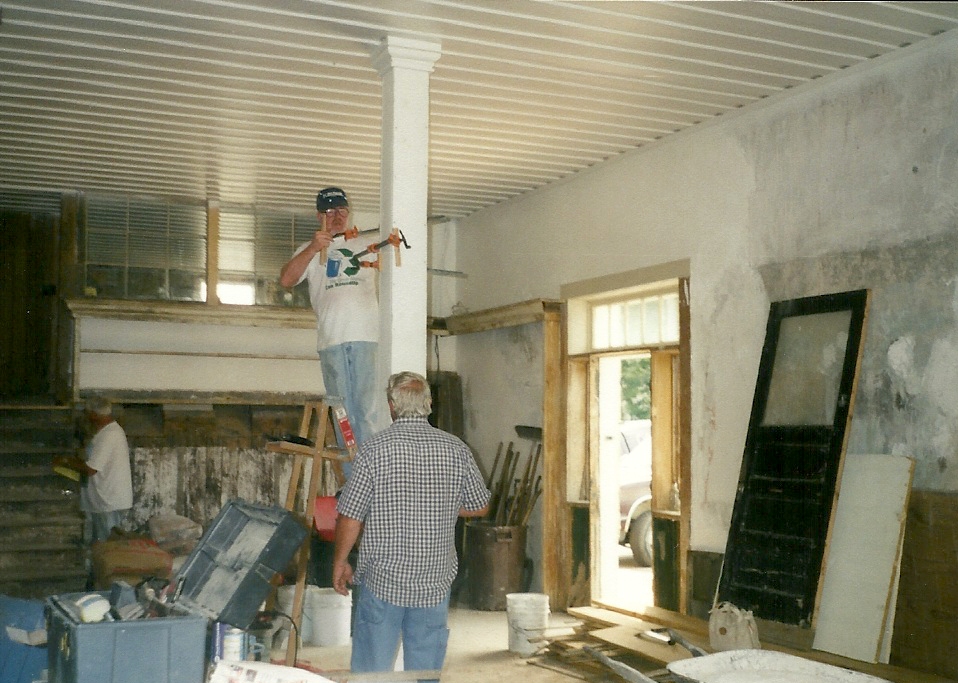 ---
Back to Table of Contents